Congratulations to the following scholarship award winners!
The American Physical Therapy Association, the nation's foremost organization representing PT professionals and students, has selected two recent Clarkson College graduates as scholarship recipients.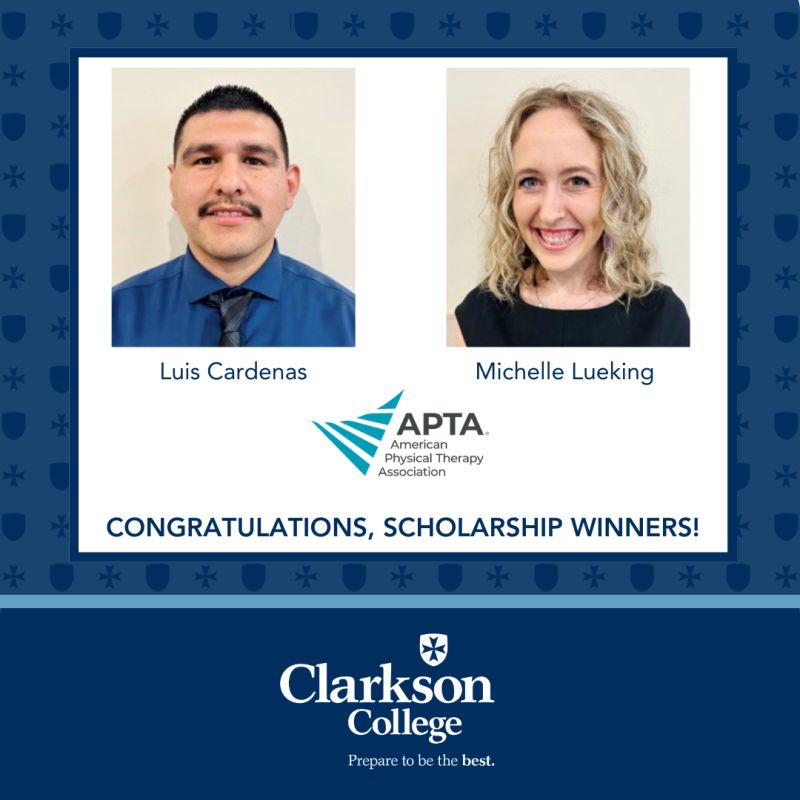 Pictured to the left:  Michelle Lueking, 2023 Mary McMillan Scholarship Award recipient, and Luis Cardenas, 2023 APTA Minority Scholarship Award recipient.
Luis Cardenas
Luis Cardenas, 2023 APTA Minority Scholarship Award recipient, was actively involved in promoting safe spaces and activities for youth in the area where he grew up and is now focused on working with Spanish-speaking patients in physical therapy.
"As a first-generation college student, I started to notice that there were not many people who looked like me in areas I wanted to be in. So, I made it a point to try and be that face you could connect with… When I worked at a clinic as a tech, Spanish-speaking patients would come to me and explain that the therapy was not working for them. Come to find out, they were not receiving treatment in the areas where they needed it, all this mainly due to the fact that the language barrier made it difficult to communicate. Seeing them light up when I could speak to them in their own language really opened my eyes and showed me that I am making a difference."
Michelle Lueking
Michelle is the 7th PTA student in program history to receive the APTA Mary McMillan Scholarship Award.
Hear her thoughts regarding plans for the future:  "Locally, a goal of mine is to establish accessible pelvic floor education to antepartum and postpartum women in the Omaha community, as well as advocating for it to become part of routine prenatal care. This can be accomplished through offering free monthly seminars at local PT clinics or gyms, visiting schools and women's centers, and networking and advocating the benefits of therapy with our local obstetricians to create buy-in. I am encouraged by advocating for others, and that's one of the many reasons I chose this field. Patients deserve to feel empowered by their body and life circumstances, and I want to help champion them into that process."