Meribeth Brookman, PTA, is nearly finished with her Bachelor's degree in Physical Therapist Assistant (PTA). After graduating from Clarkson College in December 2022, she will utilize her new education and skills to advance her practice and lead within the field.
Brookman currently practices in Piscataway, New Jersey, and was able to continue her work as a PTA while completing the online program option through the College. Her education began with a degree in Exercise Science, after which she returned to school to earn an associate degree in PTA.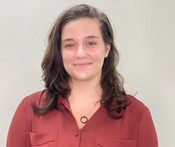 "Once I finished school, I was overwhelmed by the exciting start to my new career, but I felt like something was missing," she says. "I felt as though I still had so much left to learn to provide the best care for my patients. So, before I even held my official license in my hand, I had already applied and been accepted to Clarkson College to begin to close those residual knowledge disparities."
As one of the few institutions in the nation to offer a Bachelor's degree option, Clarkson College can offer professionals like Brookman the opportunity to close the education gap between PTs and PTAs. "People have a preconceived idea when they hear the word 'assistant' and often assume I am just another aide," says Brookman. "Pursuing a degree at Clarkson College was an opportunity to set myself apart from the rest, and hopefully earn the respect we deserve in this profession."
Through the program option, Brookman completed theory coursework online and came to campus three times to complete hands-on training and skills checks. According to her, the knowledge she gained from faculty with experience in the field was invaluable. "The teachers make it a point to get to know you and try their best to help you succeed," she says. "It fosters a team environment and helps students to come along side and push each other to be their very best."  
Now just a few days away from graduating, Brookman knows that adding the BSPTA credentials behind her name will set her apart from others in the field. "I tell every young student and new PTA that I encounter to start pursuing this Bachelor's degree goal, because it will only make you a better clinician."
Learn more about the Bachelor's degree in PTA option.