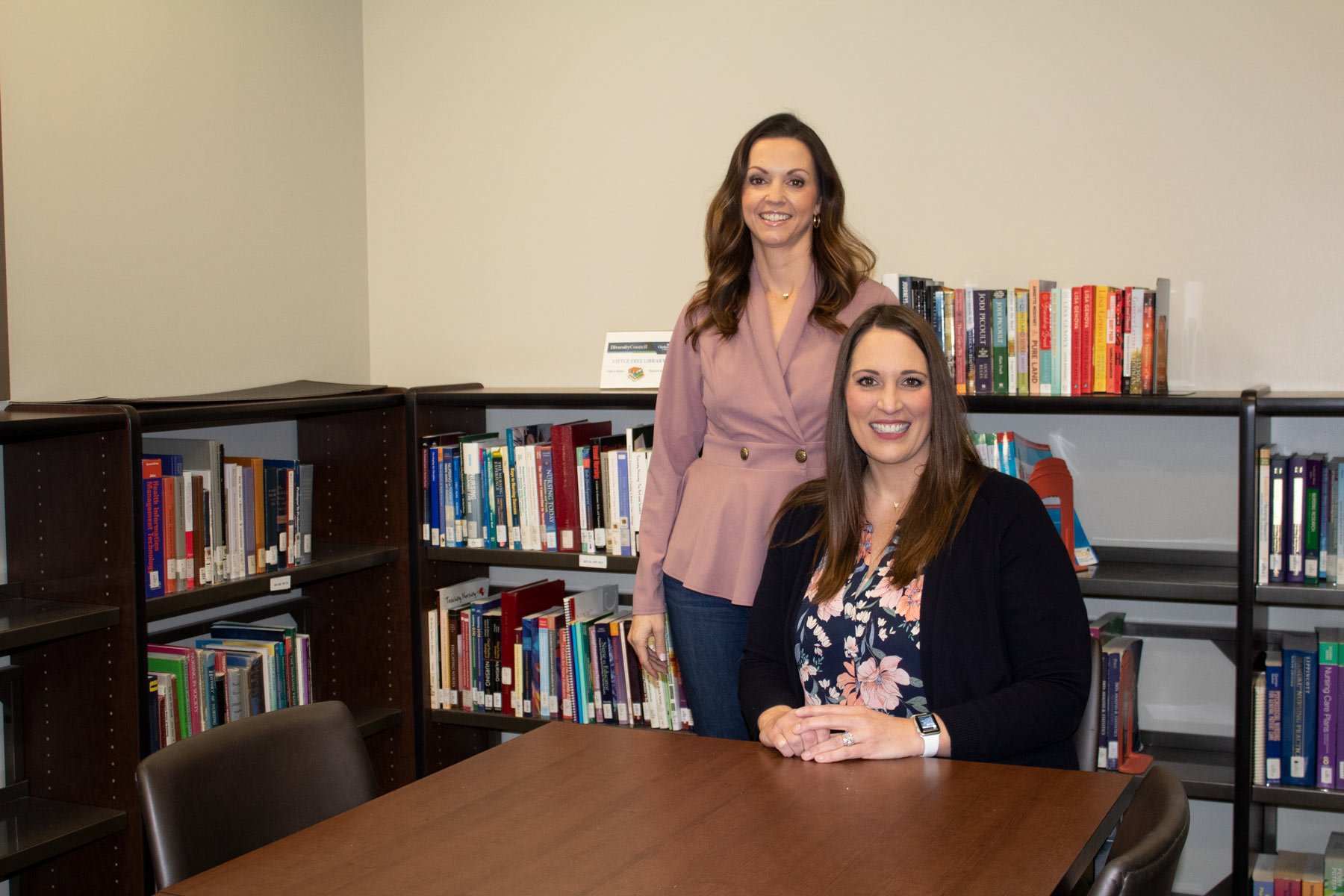 For most people, the thought of pursuing a doctoral degree can be daunting. The professional benefits are vast, but the time commitment can create hesitation in taking the first step in the process. Two Clarkson College faculty members discovered a way to make their course of study more manageable and enjoyable—by completing a doctoral program together.
Nicole Shives, M.S., and Rachel Pfeifer, MSW, LCSW, both teach in the General Education and Community Health programs at Clarkson College. They are also both enrolled in the Doctor of Healthcare Education and Leadership (Ed.D.) program option at the College, pursuing their terminal degrees. For many months, each had been considering the idea of enrolling in a doctoral program. After looking into the Clarkson College program independently, they concluded that it was the right fit for them.
"There will never be a perfect time to pursue your terminal degree. There will always be excuses as to why it can't be done, but if it is something that you are passionate about, then do it. You won't regret it. Eventually, all your hard work and dedication will come to fruition, and you'll achieve something really wonderful."
"When Nicole told me she was starting and described the program, I knew it was an excellent fit for me and my educational goals," says Pfeifer. "The focus was on subject matter that would be helpful to me as an educator at Clarkson College. Having a colleague and friend to go through the program with was just the push I needed to start."
As they both embarked on the rigorous program of study, they found ways to encourage and support one another.
"In one class, we got to be homework partners," says Pfeifer. "We spent an hour or more on the phone every week going over our assignments and explaining to one another our ways of thinking. It goes beyond comradery. We have become very close through this process, and I know I couldn't have come this far without her support and help."
Both Pfeifer and Shives plan to utilize their degrees as instructors and leaders in education at Clarkson College. The Ed.D. curriculum focuses on a combination of applied research, leadership, trends and issues in health care education, financial management,  organizational behavior and change management. The interdisciplinary coursework is ideal for educators, administrators, researchers and practitioners who want to shape health care education within their organization.
For Shives, the broad-based focus as well as the flexible learning options drew her to the program.
"One benefit of the Clarkson College Ed.D. program is the convenience of being an online program," she says. "I can have a full-time job and complete coursework at night and on the weekends. This program allows you flexibility in scheduling because you can choose full-time status, part-time status, or a combination of both."
Along with coursework, students enrolled in the Ed.D. option complete a dissertation that demonstrates their ability to translate scientific research into methods that improve health care practice through education. For many students, the dissertation process is the most intimidating aspect of pursuing a doctoral degree, but faculty in the Clarkson College program make the process manageable and flexible so that working professionals can earn their degree while continuing to work.
"The ability to work on your dissertation while taking courses is something that's been very helpful," says Pfeifer. "It makes this task much less overwhelming. I can take it in pieces, and because it's integrated into the curriculum, I feel supported by faculty along the way. Much of what I am learning about in classes transfers directly into my work life. There is flexibility in most of the classes to make the assignments beneficial to my professional life, or my dissertation topic. I am actually using what I learn, as I learn it. 
Both Pfeifer and Shives find it challenging to balance working full-time, pursuing a degree and having families, but the support they've gained from program faculty as well as one another have made their journey smoother and more enjoyable.
"There will never be a perfect time to pursue your terminal degree," says Shives. "There will always be excuses as to why it can't be done, but if it is something that you are passionate about, then do it. You won't regret it. Eventually, all your hard work and dedication will come to fruition, and you'll achieve something really wonderful."
---