Angela Felton-Coleman, DNP, MSN, RN, APRN, FNP-BC ('06, '15), is a self-described lifelong learner. Her educational career began at Clarkson College in 2006 when she earned her Bachelor's degree and since then, she has not stopped honing her craft.  She completed the Johns Hopkins School of Nursing Executive Doctor of Nursing Practice program in May 2020, and her work as a Nurse Practitioner at the Children's Hospital & Medical Center Emergency Department and Nebraska Medicine Immediate Care Clinics in Omaha, Nebraska inspires her to pursue excellence and learn something new every day.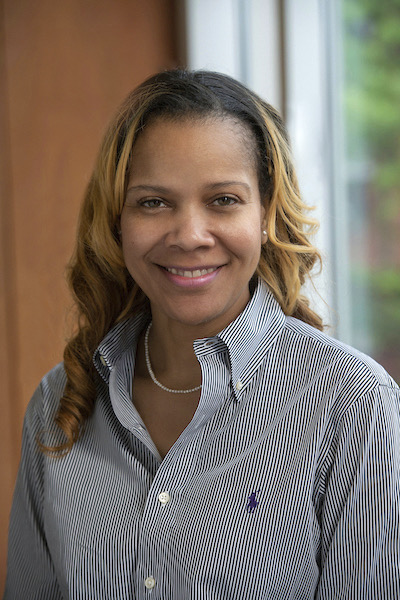 What started you on your path to becoming a nurse? 
I have known I wanted to be a nurse from at least the time I was in second grade. I remember an assignment where we were asked what we wanted to be when we grew up and my answer was, "I want to be a nurse!" My maternal grandmother was a nursing assistant, and I spent a lot of time at her home as a child. I loved watching her get ready for work in her all-white uniform, but what I loved the most was the stories she would tell—she always talked about the nurses and how wonderful they were with the patients. Because of the respect and high esteem she held for the nurses, I knew that was what I wanted to do. My grandmother became a nursing assistant at a time when a nursing career was almost unattainable for a single, black mother, but she often talked about wanting to be a nurse. As I grew older and explored other possible career choices, I always inexplicably came back to nursing. I once saw a quote that said, "Nursing is not what I do, it's who I am", and I ascribe to that daily. I was a non-traditional nursing student, having gone directly into the workforce after high school. I became a medical transcriptionist and while working for Nebraska Medicine, saw the Clarkson College table in the lobby. I took the information, completed the application and was accepted. The rest, as they say, is history.
How did your education at Clarkson College set you up for success?
The education I received at Clarkson College was phenomenal. The curriculum was intensive and cutting and provided me with the tools required for practice in the real world. Simply put, I was well-prepared for immediate and future success.
As a lifelong learner, why do you feel it is important to continue to pursue education within your field?
The health care field is ever changing and ever evolving. Being a lifelong learner keeps me apprised of all that is happening in health care. I want to be able to provide my patients and their families with the most current information as well as keep myself informed and my practice up to date.
What advice would you give to nurses or health care professionals who are considering going back to school and earning their advanced degree?
The advice I would give to nurses or other health care professionals considering pursuing an advanced degree is that they should go for it! There is nothing to lose and so much to gain. Being a nurse practitioner has changed my life and provided me a new way to practice. I loved working as a nurse, but I truly could not imagine doing anything other than what I am now doing.