Each year during the alumni reunion dinner on the last day of Spirit Week, the Alumni Association presents the Honorary Alumni Award to individuals who dedicate themselves to helping Clarkson College fulfill its Mission. It was an exciting event this year as the committee received several nominations for exceptional candidates. Alumni Association President Trish Weber ('95, '08, '11) was thrilled to present awards to Valarie Starr and Mindy Stripe.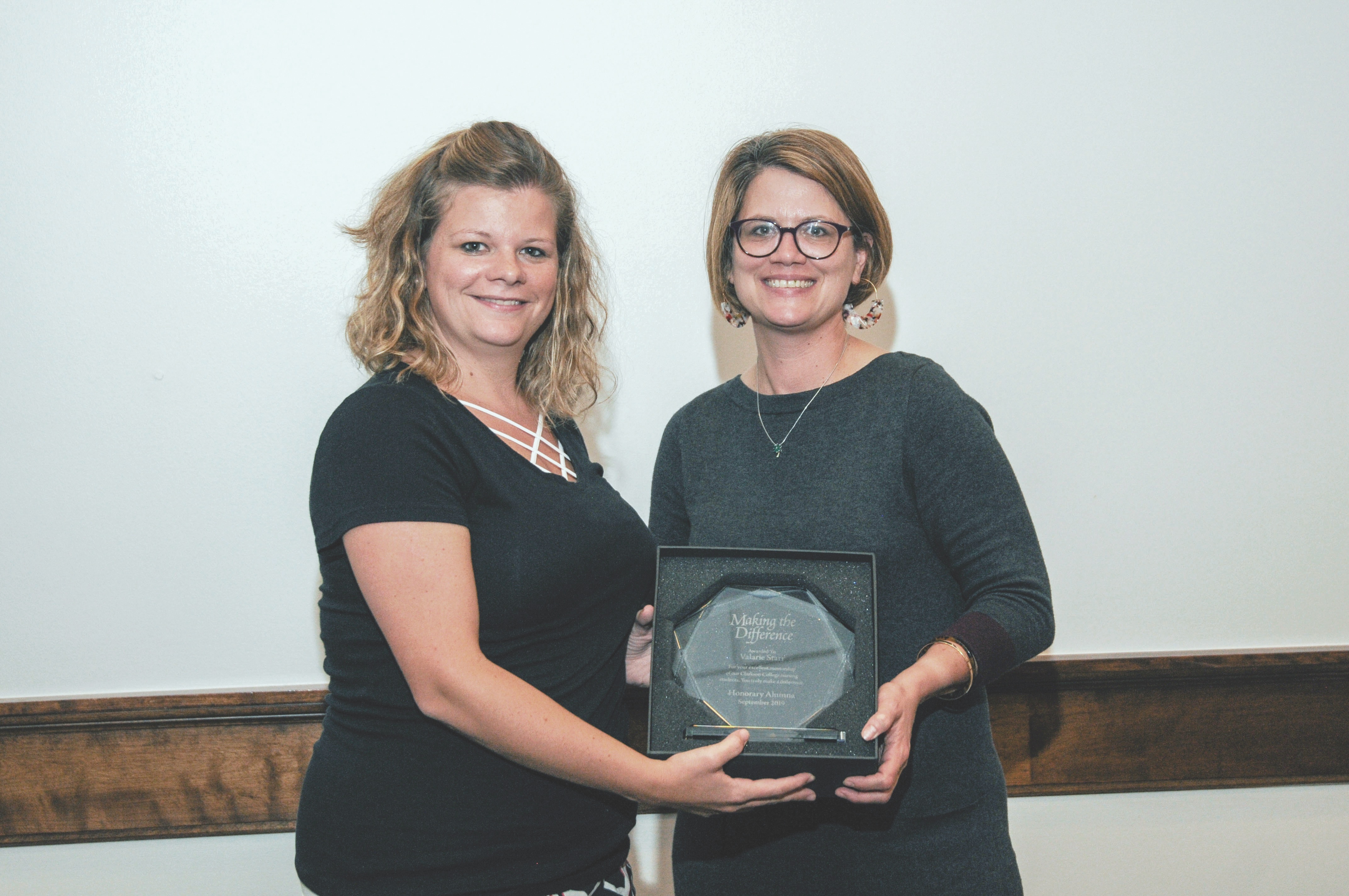 Starr works at Brookestone Meadows, where she goes above and beyond to create positive and seamless clinical experiences for students in the Undergraduate Nursing program. She helps make scheduling easy, which ensures that everyone enjoys meaningful experiences at each level of the program. Starr also works to make students comfortable in her facility, and she communicates with her employees about clinical and time requirements to help future nurses get the most out of their time at the facility. Her efforts ensure that senior-level students receive one-on-one assessments and instruction related to resident health concerns and that undergraduate and graduate students have the opportunity to participate in service learning events to meet program requirements.

Starr has a positive and creative nature that allows for great collaboration on every level. She is dedicated to resident safety, staff participation and training, and job satisfaction. Individuals like Starr ensure that student opportunities are never limited. Clarkson College is proud to have a unique partnership with Brookestone Meadows because of her and the work she does each semester.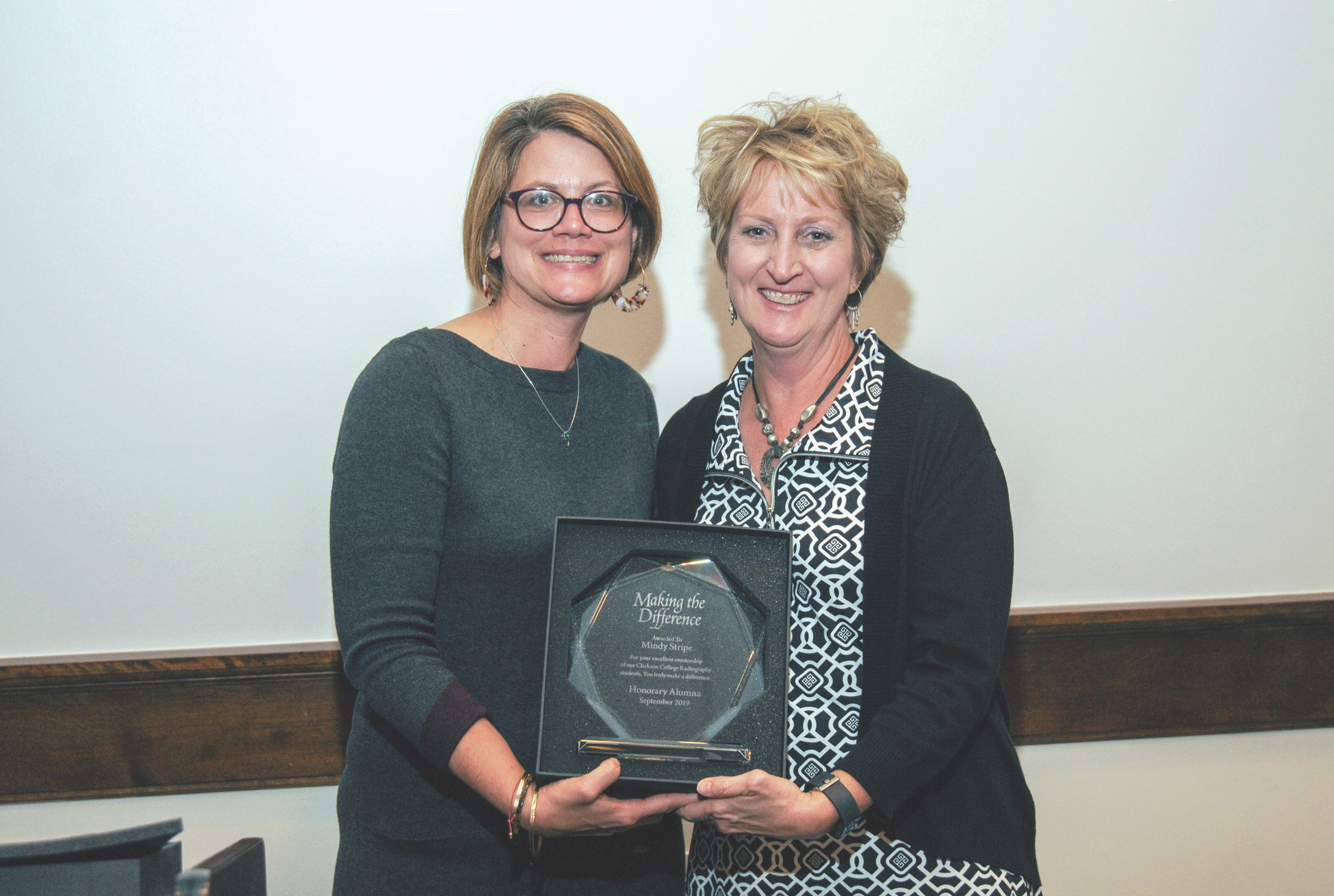 Stripe works in the Radiography department at Shenandoah Medical Center and has worked with Clarkson students for many years. Her calm, patient demeanor and willingness to teach puts students at ease and promotes a positive learning environment. She sets an exceptional example for future radiographers because of her excellent patient care skills and overall positive nature. She truly demonstrates the Clarkson College Values of Learning, Caring, Commitment, Integrity and Excellence.

Students love working with her and visiting with her at clinical. "She is great to work with!" one student commented. "She is always upbeat and willing to teach. I was grateful that she was willing to work with my schedule if I needed to change anything."

A special thank you is extended to Undergraduate Nursing Instructor Jennifer Renken, MSN, RN for nominating Starr and to Assistant Director of Radiography and Medical Imaging Shelli Weddum, M.H.A., R.T., (R) (ARRT) for nominating Stripe.  

Selection Criteria
The purpose of the Honorary Alumni Award is to recognize and honor individuals who are not Clarkson College graduates but have a strong commitment to the institution. Nominees must demonstrate extraordinary leadership within the organization and have made significant contributions to the organization's well-being, in support of its Mission to prepare students to be the best.

Criteria used to nominate and review the nominees for this award are:
Has contributed significantly to the betterment of the students and alumni of Clarkson College.
Has shown extraordinary loyalty, involvement and identification with Clarkson College.
Has distinguished him or herself by some special service to the College or to the community in which they reside.
Manifests qualities of strong moral principles worthy of recognition.
Monetary contributions are not considered as criteria.